1st Anniversary Campaign is an event launched for the game's first anniversary on April 26, 2013.
Players receive rewards during a login bonus, and additional rewards depending on time played (Crystals and Scarlet Coins).
By sending push notifications to inactive players, players are also able to collect Jubilee Coins, to be used in Celebration Pacts.
Introduced Familiar
The mentioned stats are for the fully evolved familiar (EP****), PE.
Push Notifications
On the main screen, click the info box, then go to first anniversary details. On that screen scroll down there should be a red tab that says "Details" with the jubilee coin above it: click that. Scroll down and you get 5 daily messages to send to your allies.
On some devices, a glitch/bug didn't allow some players to send notifications/messages. As of April 27, the feature seems to work on all devices.
First Anniversary Campaign Poll
We've gathered three of the most popular familiars from past campaigns for you to choose the one you'd like a chance to get your hands on! The familiar with the most votes will appear in a pact during the campaign!
Leave a COMMENT to vote for familiar A
LIKE this post to vote for familiar B
SHARE this post to vote for familiar C
Poll Ends: 5/1 23:59 PM
Result: Winner B Magma Giant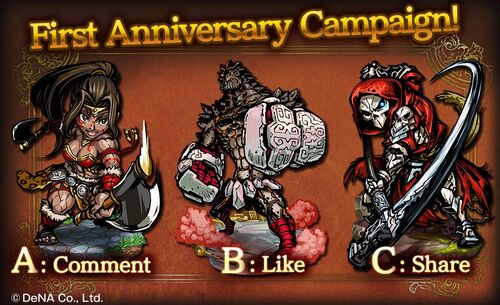 Daily Login Bonus
During the Event, the player gets various bonuses for logging in.
Other Images
Ad blocker interference detected!
Wikia is a free-to-use site that makes money from advertising. We have a modified experience for viewers using ad blockers

Wikia is not accessible if you've made further modifications. Remove the custom ad blocker rule(s) and the page will load as expected.