25 Million Download Festival is a mini-event launched for the game's 25 Million Download on March 7, 2015.
Phase 1 - Liking
Players can "like" the featured familiar - Steamwork Wyvern - until March 8, 2015. The more likes the familiar gets, the more stats it will have in its final form. Every like is awarded with
Loyalty Coin x1.
Likes
Statboost
1~5,000
each stat increases 200 points
5,001~10,000
each stat increases 300 more points
over 10,000
each stat increases 500 more points
Phase 2 - Appreciation in Blood
Each player that has reached level 170 by March 25, 2015 (furthermore known as Blood Lord) will recieve the following gifts by March 28, 2015:
Phase 3 - Login Bonus
During the Event, the player gets various bonuses for logging in.
Phase 4 - Loyalty Pact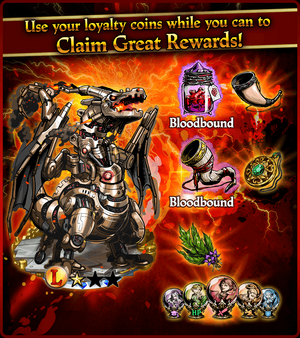 Loyalty Pact is only valid until March, 31 2015 3:00 am (PT)
To celebrate achieving 25 Million downloads, we have opened this Universal pact for all players to draw from! Quickly get your Loyalty Coins and start drawing!
(There are a limited number of presents. A present already drawn by one player will not be available to another.)
Loyalty Coins can be obtained through the 25 Million Festival Gifts, the Special Dungeons 33, the God of Steel event as well as by being a "Blood Lord"!
Claim special familiars from the Loyalty Pact using Loyalty Coins during the event before its too late!
Every Unclaimed Loyalty Coin will be exchanged for 1 Silver Coin after the above time.
Other Images
Ad blocker interference detected!
Wikia is a free-to-use site that makes money from advertising. We have a modified experience for viewers using ad blockers

Wikia is not accessible if you've made further modifications. Remove the custom ad blocker rule(s) and the page will load as expected.