Bai-Hu II


Details
Skill
Thunderstorm

Evolution
Max Level
70
Rarity
Rare
Elite
Siege Tourney 2
Growth
Normal
Worth
17,310 Gold
Race
Gender
Tradable
Sacrificable

Last Words
So this is where my path leads...
ID
10834
Auto-attack
ATK (100% * 1)
Position Dependent
HP
ATK
DEF
WIS
AGI
Base
4,275
5,346
4,275
5,598
5,238
Max
4,750
5,940
4,750
6,220
5,820
PE
5,146
6,435
5,146
6,738
6,305
Note: PE Stats is 2x1*, 4x1* or 8x1*, fully leveled.
Special Information
See our Origins section for information about Bai-Hu II's origins.
Locations
Where have you seen Bai-Hu II?
Evolution Line
Other Media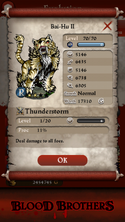 Ad blocker interference detected!
Wikia is a free-to-use site that makes money from advertising. We have a modified experience for viewers using ad blockers

Wikia is not accessible if you've made further modifications. Remove the custom ad blocker rule(s) and the page will load as expected.