Belle Pact are pacts introduced on January 25, 2016. Pacts can be forged with the use of a Belle Coin.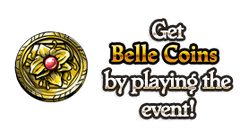 Pact still valid after event ends
Featured Familiars
Featured familiars include Mythics, Legendaries, Epics and Rares that can be evolved.
Featured familiars are available at their lowest evolution form (M, L, EP* and R*) only. The mentioned stats are for fully evolved familiars (M**, L***, L**, EP** and EP****), PE.
Featured Familiars
Image
Familiar
Skill
HP
ATK
DEF
WIS
AGI
Amaterasu, Light of the Sun II
Shower of Light
Grace of the Sun
23,552
12,003
22,837
22,837
17,853
Hel, Goddess of Woe II
Claws of Death
Miasma of Death
25,274
11,765
21,699
25,003
18,005
Ortlinde, Silent Valkyrie II
Entangling Arrows
Souldrain Arrows
25,166
23,075
20,778
14,668
18,048
Banshee Rider II
Fervent Hooves
Binding Whip
23,010
15,459
20,930
24,158
17,983
He Qiong, the Transcendent II
Lotus Blossom
23,703
13,693
21,656
22,501
17,442
Magdal, Dragonmaster II
Golden Flame
18,178
20,367
20,941
22,685
15,448
Special Revived Familiars
Ad blocker interference detected!
Wikia is a free-to-use site that makes money from advertising. We have a modified experience for viewers using ad blockers

Wikia is not accessible if you've made further modifications. Remove the custom ad blocker rule(s) and the page will load as expected.