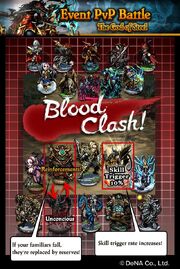 Blood Clash was introduced during the God of Steel, PvP Event 7 and new rules were introduced during the God of Steel, PvP Event 8. A Blood Clash is a battle involving your entire party, that is to say the main party, plus the reserve.
You can participate in a Blood Clash once you earn the title of Optio. The largest possible Blood Clash is 10v10 Familiars. A Blood Clash occurs every battle. If the familiars in the front line become incapacitated, the reserve ones will take their place.
Every familiar that survives one turn will have its skill trigger rate increased by 10% for the subsequent turn.
During God of Steel, PvP Event 10, skill trigger rate bonus applies from the first turn, but only after opening buffs. This has since been reverted.
When a familiar from the main line dies, a reserve familiar takes its place. When a reserve familiar comes out and there are no more live familiars (assuming there are still reserve foe familiars), your reserve will miss its turn.
Ad blocker interference detected!
Wikia is a free-to-use site that makes money from advertising. We have a modified experience for viewers using ad blockers

Wikia is not accessible if you've made further modifications. Remove the custom ad blocker rule(s) and the page will load as expected.