Main article: Category:PvP Events
Special Information
| # Familiars in Brigade | Bonus Points |
| --- | --- |
| 1 | 5% |
| 2 | 10% |
| 3 | 20% |
Full list of M, L and EP familiars that may paralyze: Note: click Expand to view the list
| Rarity | Familiar | Name | Dmg Source | Position Dependent | Paralyze With + Chance to paralyze |
| --- | --- | --- | --- | --- | --- |
| M | | Sabnock, Marquis of Hell II | AGI | No | Active Skill 25% |
| M | | Banshee Rider II | WIS | No | Opening Skill 30% & Auto 30% |
| M | | Captain Jed II | ATK | Yes | Auto 25% |
| L | | Arcanan Chariot II | AGI | Yes | Active Skill 30% |
| L | | Bandersnatch, Beast Divine II | WIS | No | Active Skill 30% |
| L | | Belial, Lord of Vices | AGI | Yes | Active Skill 30% |
| L | | Brass Rabbit | AGI | Yes | Active Skill 30% |
| L | | Cap'n Jolly, Sea Scourge II | WIS | No | Active Skill 30% |
| L | | Cyclops, the Rocky Cliff II | ATK | Yes | Active Skill |
| L | | Discordia, Bringer of Ruin | AGI | No | Active Skill 20% |
| L | | Jarilo, God of Fertility | ATK | Yes | Active Skill 25% |
| L | | Laola, Demiwyrm Spearbearer II | WIS | No | Active Skill 20% |
| L | | Perendon the Pure | AGI | No | Active Skill 35% |
| L | | Ramiel, Angel of the Storm II | WIS | No | Active Skill 30% |
| EP | | Arachnaea the Divine II | ATK | Yes | Active Skill 70% |
| EP | | Azan, the Dragon Bone II | ATK | Yes | Auto 20% |
| EP | | Behemoth, Thunder Beast II | ATK | Yes | Active Skill 50% |
| EP | | Botis, Dasher of Hopes II | AGI | Yes | Auto 20% |
| EP | | Cat Sith Warlord II | ATK | Yes | Auto 25% |
| EP | | Celestial Kirin II | WIS | No | Active Skill 30% |
| EP | | Chanchu, Hermit II | WIS | No | Active Skill 40% |
| EP | | Clockwork Viper II | AGI | Yes | Active Skill 20% |
| EP | | Crystallus Rex II | WIS | No | Active Skill 25% |
| EP | | Dein, Silent Bomber II | ATK | No | Active Skill 20% |
| EP | | Druj Nasu, the Impure II | AGI | Yes | Active Skill 30% |
| EP | | Dryad Archer II | ATK | No | Active Skill 40% |
| EP | | Goemon, Master Thief II | ATK | No | Active Skill 10% |
| EP | | Guerson, Thunder Mage II | WIS | No | Active Skill 30% |
| EP | | Haokah, the Lightning Brave II | WIS | No | Active Skill 30% |
| EP | | Ivy the Verdant II | WIS | No | Auto 50% |
| EP | | Lahamu, Royal Viper II | WIS | No | Active Skill 30% & Auto 20% |
| EP | | Lenore, the Sly Fox II | AGI | No | Active Skill 20% |
| EP | | Najeeba, the Mapleblade II | WIS | No | Active Skill 30% |
| EP | | Oka, Kunoichi II | WIS | No | Active Skill 20% |
| EP | | Paladin of Leo II | AGI | Yes | Auto 40% |
| EP | | Petsuchos Minister II | ATK | Yes | Upon Death 70% |
| EP | | Pixiu, the Wealthy II | ATK | Yes | Opening Skill 15%, Active Skill 40% & Auto 20% |
| EP | | Queen Echidna II | WIS | No | Active Skill 30% |
| EP | | Tlahuizcal, the Calamity II | ATK | Yes | Active Skill 30% |
| EP | | Thundering Pterosaur II | WIS | No | Active Skill 20% & Auto 40% |
| R | | Blazing Raiju II | WIS | No | Active Skill 30% |
| R | | Crystal Golem II | ATK | Yes | Active Skill 10% |
| R | | Dirge Merrow II | WIS | Yes | Active Skill 30% |
Associated Pacts
As soon as players earn 60,000 points and attain the PvP title of Optio (1.1x bonus to stats), all PvP battles become Blood Clashes for the duration of the event.
Challenge Battle
You may encounter a Challenge Battle after 3 back-to-back wins.
Win all Challenge Battles in 15 minutes to earn greater points and amazing rewards!
Challenge Battles will not affect your win count.
Up to win streak 24, Challenge Battles involve 3 back-to-back battles. After win streak 24 this becomes 5 back-to-back battles.
Winning all Challenge Battles grants you 1 bugle and a chance of obtaining C/UC foot gear or trinket.
Collect as many Marks of Glory as you can from Challenge Battle! Exchange them for familiars with theme bonus for the current event and other valuable items in the Hall of Glory!
Swift Strikes
Swift Strikes: get up to 3

Marks of Glory for each completed Challenge Battle in the first three days of the event!
Valid until 9/19 3:00 am (PT)
Final Strikes
Get Bercilak, Green Knight by emerging victorious in the Final Group Battle (Tribinus Militum
, Legatus Legionis

)!
Group Battles from 9/22 3:00am to 9/23 1:00am (PT)
Rewards
Bronze Sabatons rewarded at 500,000 event points.
Bronze Signet rewarded at 750,000 event points.
2 Fire Gems are rewarded on reaching 1,000,000; 2,000,000; 3,000,000; 4,000,000 and 5,000,000 points
Scarlet Coin rewarded at 1,500,000 event points.
Chance to obtain Bronze Sabatons, Bronze Signet, Silver Sabatons or Silver Signet from 3 back-to-back wins rewards
1 Bronze Signet, Silver Signet, Gold Signet or Platinum Signet is rewarded for finishing #1 in each day's group, the ring's rarity is determined by the group's title.
Top 10,000 ranked players receive 1 Gjallarhorn.
Resounding Glory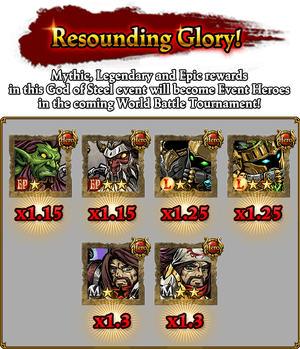 Daily Login Bonus
During the Event, the player gets various bonuses for logging in.
Ad blocker interference detected!
Wikia is a free-to-use site that makes money from advertising. We have a modified experience for viewers using ad blockers

Wikia is not accessible if you've made further modifications. Remove the custom ad blocker rule(s) and the page will load as expected.