Kangana, the Maelstrom


Details
Skill
Bodycheck

Evolution
Max Level
99
Rarity
Legendary
Growth
Normal
Worth
20,120 Gold
Race
Gender
Tradable
Sacrificable

Last Words
An elephant dies, a new boneyard is born.
ID
804
Auto-attack
ATK (100% * 1)
Position Dependent
HP
ATK
DEF
WIS
AGI
Base
4,260
5,090
4,010
3,430
3,550
Max
11,730
14,000
11,020
9,430
9,770
PE
N/A
N/A
N/A
N/A
N/A
Note: PE Stats is 2x1*, 4x1* or 8x1*, fully leveled.
Locations
Where have you seen Kangana, the Maelstrom?
Evolution Line
Kangana, the Maelstrom
Kangana, the Maelstrom II



Other Media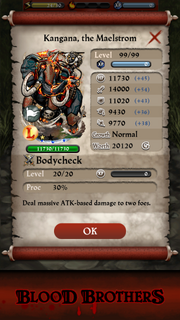 Ad blocker interference detected!
Wikia is a free-to-use site that makes money from advertising. We have a modified experience for viewers using ad blockers

Wikia is not accessible if you've made further modifications. Remove the custom ad blocker rule(s) and the page will load as expected.