HP
ATK
DEF
WIS
AGI
Base
5,868
7,164
5,373
8,208
5,436
Max
6,520
7,960
5,970
9,120
6,040
PE
7,486
9,138
6,853
10,467
6,934
Note: PE Stats is 2x1*, 4x1* or 8x1*, fully leveled.
Special Information
See our Origins section for information about Lahmu, Snake King's origins.
Locations
Where have you seen Lahmu, Snake King?
Evolution Line
Other Media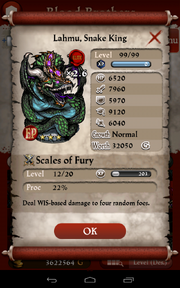 Ad blocker interference detected!
Wikia is a free-to-use site that makes money from advertising. We have a modified experience for viewers using ad blockers

Wikia is not accessible if you've made further modifications. Remove the custom ad blocker rule(s) and the page will load as expected.