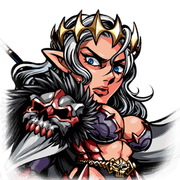 Memsika is the Highlander Queen of the Dark Elves, and appears in Story Mode. She is the spouse of King Argan.
It is currently unknown if she'll appear as a real familiar in the game.
Special Information
Memsika was the first person except Gina, the Warlord and Galbraith to appear in different regions of Arnashia in the Story Mode. She's also the only one to do this, together with Caleon and Sylvie.
Ad blocker interference detected!
Wikia is a free-to-use site that makes money from advertising. We have a modified experience for viewers using ad blockers

Wikia is not accessible if you've made further modifications. Remove the custom ad blocker rule(s) and the page will load as expected.