Olitiau, the Great Bat II


Details
Skill
Skittering Darkness

Evolution
Max Level
99
Rarity
Epic
Elite
The Keepers
Growth
Normal
Worth
25,790 Gold
Race
Gender
Tradable
Sacrificable

Last Words
Come to me, darkness, my old friend...
ID
10889
Auto-attack
ATK (100% * 1)
Position Dependent
HP
ATK
DEF
WIS
AGI
Base
5,350
6,020
4,400
4,220
5,800
Max
12,490
14,040
10,270
9,860
13,520
PE
13,531
15,210
11,126
10,682
14,647
Note: PE Stats is 2x1*, 4x1* or 8x1*, fully leveled.
Special Information
See our Origins section for information about Olitiau, the Great Bat II's origins.
See our Tier Lists (PvP, Raid and Tower) for Olitiau, the Great Bat II's tier.
Locations
Where have you seen Olitiau, the Great Bat II?
Evolution Line
Olitiau, the Great Bat
Olitiau, the Great Bat II



Other Media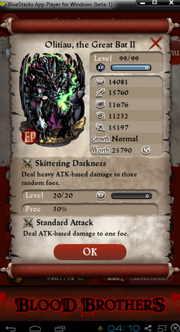 Ad blocker interference detected!
Wikia is a free-to-use site that makes money from advertising. We have a modified experience for viewers using ad blockers

Wikia is not accessible if you've made further modifications. Remove the custom ad blocker rule(s) and the page will load as expected.