PvP is a mini-event first introduced on ?.
When exploring a zone, you may encounter opponents to battle with. The opponents are made up of brigades of 3 other players. Receive a reward each time you get 3 back-to-back wins. Climb the ranks for valuable rewards!
Basic Rules
You may encounter opponents while exploring a zone.
Select an opponent from the list to begin battle!
Win 3 battles in 10 minutes to claim a reward.
The more back-to-back wins you accumulate, the greater the reward.
There are also rewards for each day's top-ranked competitors!
Win Streaks
Receive a reward each time you get 3 back-to-back wins. If you lose, your record is reset to 0. If you don't get 3 wins in 10 minutes, none of your wins in the time period count.
After a 30-win streak, your win count resets to 0.
Ranking
Rankings are determined by the number of wins each day between 2 a.m. and 0 midnight (PDT). The rewards change daily, so win early and often! See below for rewards.
Ranking Rewards
Crystals increase familiar's stats.
Use them to make your favorite familiars more powerful!
Crystal rewards change each day!
On Saturdays and Sundays you can win a full crystal set !

| | |
| --- | --- |
| #1-5 | 10 crystals |
| #6-10 | 5 crystals |
| #11-100 | 2 crystals |
| #101-1000 | 1 crystals |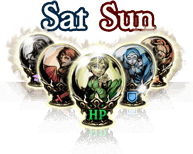 | | |
| --- | --- |
| #1-5 | 5-Crystal Set x3 |
| #6-10 | 5-Crystal Set x2 |
| #11-100 | 5-Crystal Set x1 |
Morale
You can choose to do all-out or standard attacks. All-out attacks take 3 morale, but your party's stats receive a 50% bonus.
You can use the two items listed below to quickly replenish morale!
Bugle


Restores 1 point of morale.

Gjallarhorn


Fully restores morale.
100 MobaCoin
Ad blocker interference detected!
Wikia is a free-to-use site that makes money from advertising. We have a modified experience for viewers using ad blockers

Wikia is not accessible if you've made further modifications. Remove the custom ad blocker rule(s) and the page will load as expected.