Main article: Category:Special Dungeons
Special Information
This is the first tower event to feature the Treasure March
Story
"

Three towers stand silent watch over the wilds of Western Midlands. A dreadful foe dwells within, seeking to trap those seeking umbrage in the twisting passages of the towers in order to sacrifice them.

"



 

— In-game 
Event Points
Earn points during this event by defeating foes and bosses in the event areas. You can also earn points by capturing them. Rare rewards awaits those who earns enough points! The more points the better!
Tower Coins
Completing the tenth floor on the "Knight's Tower" section of the dungeons will give you three "Tower Coins" which, in return, allows you access to the "Vault of Trials" section of the dungeons once per three coins spent.
Treasure March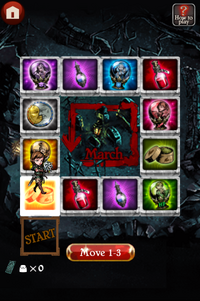 Use 1 Treasure Ticket to advance through the cloister and get 1 of these items, guaranteed!
You may get these tickets from Reliquaries (Golden Chests) in last floors of Novice's and Squire's Towers, which are also found in the sixth to last floors of Knight's Tower.
Use tickets to enter Treasure March.
Advance 1 to 3 gravestones, chosen randomly
Get the item that you stop on!
Notes:
Items gotten are placed in the General Wagon.
After the event ends, each unused ticket will be exchanged for a Copper Coin which will be placed in your Wagon.
Bosses
Rewards
Scarlet Coin x1 will be rewarded at 800,000 event points.

Daily Login Bonus
During the Event, the player gets various bonuses for logging in.
Vault Information
Vault Boss Points Min/Max
Battle 1

Tower Boss

Battle 2

Tower Boss

Battle 3

Tower Boss

Battle 4

Tower Boss

Battle 5

Random Rare

Battle 6

Random Legendary

Total Pts
No Capture
6,090 Pts
9,730 Pts
13,370 Pts
17,010 Pts

18,200 Pts (Centifin)
25,540 Pts (Anzu, Almase, Lamassu)

36,540 Pts
108,280 Pts
Heartsblood Capture
18,270 Pts
29,190 Pts
40,110 Pts
51,030 Pts

54,600 Pts (Centifin)
76,620 Pts (Anzu, Almase, Lamassu)

251,760 Pts
Gallery
Ad blocker interference detected!
Wikia is a free-to-use site that makes money from advertising. We have a modified experience for viewers using ad blockers

Wikia is not accessible if you've made further modifications. Remove the custom ad blocker rule(s) and the page will load as expected.