Please refrain from posting your ID's on the page's comments. Messages displaying ID's will be deleted.
Main article: Category:Special Dungeons
Event Points
Earn points during this event by defeating foes and bosses in the event areas. You can also earn points by capturing them. Rare rewards awaits those who earns enough points! The more points the better!
Tower Coins
Each 3 Tower Coins allow a single entrance into the "Vault of Trials" section of the dungeons.
Earn Tower Coins by:
Completing the 10th floor on the "Knight's Tower" for three Tower Coins
One Tower Coin is rewarded on the last wooden chest (before the 7th encounter) in the "Vault of Trials"
One Tower Coin is rewarded on each completion of the "Vault of Trials", excluding the 1st one.
Bosses
Vault of Trials (Secret Boss):

Capturable Rare Bosses:
Capturable Uncommon Bosses:
Non-Capturable Legendary Bosses:
Non-Capturable Epic Bosses:
Non-Capturable Uncommon Bosses:
Capture Request
A Hlokk, Valkyrie was awarded to players who captured 20 Zorg, Lizardman Berserker before the end of the event.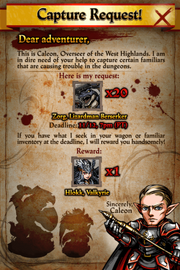 Rewards
A Scarlet Coin was awarded at 800,000 event points, and a Heartsblood was awarded at 1,200,000 event points.
Wereheart Shards and Beastheart Shards were rewarded at the following event point levels:
| Wereheart Shard | Beastheart Shard |
| --- | --- |
| 100,000 | 200,000 |
| 350,000 | 400,000 |
| 450,000 | 500,000 |
| 600,000 | 800,000 |
| 1,000,000 | 1,200,000 |
| 1,500,000 | 2,000,000 |

Daily Login Bonus
During the Event, players earned the following various bonuses for logging in.
Vault Information
Vault Boss Points Min/Max
Battle 1
Battle 2
Battle 3
Battle 4
Battle 5
Random Rare
Battle 6
Random Legendary
Battle 7
3 Legendary Bosses
Total Pts
No Capture
6,210 Pts
9,870 Pts
13,530 Pts
17,190 Pts
26,640 Pts
43,520 Pts
75,200 Pts
192,160 Pts
Heartsblood Capture
18,630 Pts
29,610 Pts
40,590 Pts
51,570 Pts
79,920 Pts
339,040 Pts
Vault Run Formula
Possible Runs = Tower Coins - 2
Check out the Online Vault Run Calculator for a tabular form of this calculation.
Gallery
Ad blocker interference detected!
Wikia is a free-to-use site that makes money from advertising. We have a modified experience for viewers using ad blockers

Wikia is not accessible if you've made further modifications. Remove the custom ad blocker rule(s) and the page will load as expected.