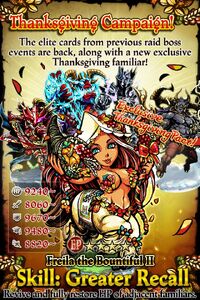 Thanksgiving Campaign was a special pact type, that started on November 29, 2012, in which players could obtain Elites from former Raid Boss Events, and the new Familiar Freila, Centaur and its evolutions.
Ad blocker interference detected!
Wikia is a free-to-use site that makes money from advertising. We have a modified experience for viewers using ad blockers

Wikia is not accessible if you've made further modifications. Remove the custom ad blocker rule(s) and the page will load as expected.