Warning! This article is unofficial, has a subjective point of view, and was made by players and fans.
The possibility of adding new skills to the players' Warlords is possible through the Add New Skill feature of the game. A Warlord can possess three different skills at the same time.
A level 50+ Warlord is needed before players can add new skills. A Familiar with the desired skill shall be sacrified during the ritual: this Familiar should be Epic or Legendary, and at level 99 (exceptions exist). Please see the Add New Skill page for more precise information.
Overview
The Warlords
The eight different Warlords have very different stats and attributes. Those stats should be taken in consideration while choosing new skills.
For instance, the Black Brute has a very low Wisdom (WIS) and therefore will be a very bad buffer. However, his high Attack (ATK) allows him to deal heavy damage to his foes with almost every offensive skill (if the skill is based on ATK). On the opposite, the Grey Mage has a very poor ATK, but a very high WIS: this Warlord will make an excellent buffer.
It should be noted once again that the Warlord must be at level 50 (or more) before players can add new skills.
The Skills
Skills are separated in different categories:
Offensive: used during the Warlord's turn (i.e. dealing damage, healing an ally, removing a buff, etc.)
Defensive: used in response to an enemy's attack/skill (i.e. a counter-attack, defending an attacked ally, etc.)
Opening: used at the beginning of the battle, before the first turn (usually buffs and debuffs)
Ideally, a Warlord should have one of each of those skills. Indeed, having two offensive skills or two opening skills will not increase the chances of your Warlord using either, only serving as a randomizer (see Add New Skill Mechanics).
Archetypes & Suggestions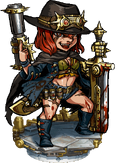 This section gives suggestions of skills sets for each Warlord. They should not be considered as the best ones, as the efficiency of skills also depends on your team (see Building a Brigade) and because of personal preference.
Important notes: Skills only available with Legendary Familiars or not-tradable Familiars are not taken into account for material reasons. Moreover, the skill Payback should be considered the best Defensive skill for all Warlords; this guide will also show the next best alternative due to the very high cost of acquiring an Adara Luck Shot. However, with the re-introduction of older Legendaries in the December Tier Pacts, Aegis, the Bulwark is now a cheaper alternative to Payback, providing a 100% ATK damage counter compared to Adara's 230% ATK counter.  
PvP
Black Brute has very low WIS. Buffs based off WIS do very poorly on him compared to using a dedicated buffer. Bulwark is therefore much better for him due to not scaling off WIS (flat percentage). However, if using a buffer Strength of Blades or Might of Shields should be used due to it being based off 50% of Black Brute's WIS rather than 20-30% of other buffs.
Due to his very high base ATK, Head Bash, even unbuffed, is capable of killing familiars, even from the back row. Some players prefer Head Bash because it's (nearly) certain two kills. However, given his low AGI, Black Brute will typically go relatively late in battle order, so Head Bash will often be overkill on the two foes it hits while leaving more standing than would be ideal. Especially when combined with Bulwark, Bone Crush or Icy Touch are viable offensive skills for the front row (both benefitting from 20% bonus damage). Alternatively, Black Brute in the back row with either of those skills would probably benefit most from an ATK-buff, such as Strength of Blades.
PvE
Like in PvP, due to his very low WIS, Black Brute's aim is to deal the maximum damage possible to bosses. However, thanks to the Elite bonus (x5), Black Brute can use Strength of Blades 2 to further increase his ATK, and thus deal more damage.
Payback is the best skill available for Raid and Black Brute's very high ATK makes it very useful if hit by a boss. Curse Foil offers a nice alternative, allowing Black Brute to still hit back after an attack from the boss.
PvP
With his extreme DEF and WIS, Blue Beard fits the back row of a team. Like other WIS Warlords, a good WIS-based offensive skill will allow him to cause massive damage to his enemies. His high WIS also allows him to cast good buffs: in order to increase his natural advantages, Boon of Mind & Shield seems to be a good option. However, his low ATK is a big con: replacing Slashing Blade immediately is the best to do. Torrent of Flame is a great option because with a buff it is enough to OHKO most familiars in one shot. Lightning Web is a more expensive option, but more all-around for PvP and PvE. Lightning Web is a 3-hit OHKO that can paralyze as well.
His high DEF allows him not to die on the first round, and Blue Beard can use this advantage to protect other Familiar with reactive skills like Shield & Dagger or Cloak & Dagger. Using an ATK buff may also help to increase the damage of his counter-attacks.
PvE
AoE skills like Torrent of Flame are useless against bosses: giving skills like Lightning Web (3 x 215%) or Flash of Rage (6 x 90% WIS) to Blue Beard is a very good option, allowing him to do lots of damage.
Reactive skills besides Payback and Curse Foil are quite ineffective against bosses, Syphon being the best option.
With the Elite bonus and his high WIS, a good buff skil will benefit the entire brigade. Depending on the team and Elite Familiars, this skill may vary, but Boon of Mind & Shield 2 is still a very good option, as it increases Blue Beard's natural high WIS and DEF stats. However, Boon of Mind & Blade 2 is the best option, especially in a brigade with heavy hitters (which is what you want in raid events).
PvP
Golden Lance has very poor DEF and poor WIS. Where Black Brute's high ATK allows him to be backrowed to pursue the defensive route, Golden Lance does not have this option. He must be placed in front to have any hope of killing. This leaves the Bulwark option out.
Because Golden Lance's sole asset is AGI, if he were to go slower than other Warlords, he would be hopelessly outclassed. His only hope of victory is to increase his one natural advantage. Thus, Grace of Winds and its family is the only Opening skill he should use.
To offset his middling ATK and maximize his killing power without necessitating an ATK buffer (thus limiting brigade options), Head Bash should be his offensive skill. While ATK-based, it out-damages Rebuke. Sword of Justice is available to those who have the requisite Gjallarhorns. Sword of justice benefits from a front-row position which is risky for GL because of his low defense. Tears of the Hideous is a superb skill that allows him to be put in the backrow while still being able to OHKO 3 familiars with a buff.
Syphon here is used as a defensive skill because Golden Lance's relative fragility means a cover-type skill is suicide.
PvE
Just like for PvP, Golden Lance has two options to fight bosses: keeping his AGI nature or going for an ATK set. Offensive skills and buffs will depend on the player's choice. Here, Golden Lance can use a buff like Strength of Blades 2 to increase Head Bash's power, as the Elite bonus gives him a great boost to his low WIS.
Payback is still the absolute best reactive option against bosses with Curse Foil being second. Riposte is expensive, but there is no reason to choose it over Curse Foil. Syphon is once again the third best solution.
PvP
Green Healer, just like Blue Beard, has very high WIS and DEF, making this Warlord perfect for the back row. Her high WIS allows her to destroy entire brigades with skills like Torrent of Flame.
In order to improve her efficiency, an AGI buff will allow her to attack first: if she uses her offensive skill, the battle can finish there. On the other hand, a WIS and/or DEF buff will increase her high stats, making her more powerful, but slower. If your team focuses on WIS and ATK with Green Healer being your protector familiar, then Boon of Mind & Blade 2 may be a better choice.
Due to her low ATK, Payback and Curse Foil are less effective on Green Healer than on other Warlords (it is still the best solution) and her counter-attacks will be very weak. Syphon will allow her to heal adjacent Familiars, something that can help in a slow WIS team. But, if you are using her to be your defensive familiar, Cloak & Dagger would be the best option in order to protect your primary familiars.
PvE
The very same as Blue Beard: giving skills like Lightning Web (3 x 215% WIS) or Flash of Rage (6 x 70% WIS) is the best option for Green Healer.
Reactive skills, besides Payback, are quite ineffective against bosses. Curse foil is the best option, with Syphon being third.
With the Elite bonus and his high WIS, a good buff skill will benefit the entire brigade. Depending on the team and Elite Familiars, this skill may vary, but Boon of Mind & Shield 2 is still a very good option, as it increases Green Healer's natural high WIS and DEF stats. However, for most brigades Boon of Mind & Blade 2 is the best option due to increasing your team's ATK stats which are the best familiars to use in raid.
PvP
Grey Mage's strength in PvP comes from a combination of high AGI and high base WIS. A Torrent of Flame, even unbuffed, may kill entire brigades. The focus then is to increase the speed of all familiars and his own using a Grace of Winds buff. Due to his high WIS, such a buff works better on him than on non-WIS Warlords. This allows him to go first and possibly prematurely win the fight with a Torrent of Flame.
Because Grey Mage has poor attack and poor defence, he should not use a position-dependant AGI-based attack (which would necessitate frontrowing him). Instead, Tears of the Hideous is an amazing skill in an AGI brigade. This allows Grey Mage to be in the backrow and almost always OHKO 3 familiars. Grin and Bear It can, in some instances, prolong his life for a second turn to cast a second Torrent of Flame or Tears of the Hideous.
PvE
In PvE, Grey Mage's AGI matters little. Here, the key is simply to hit as hard as one possibly can, while buffing other familiars to also hit as hard as they can.
For offense, Flash of Rage here becomes superior to Torrent of Flame. In tower events, each hit is likely to kill a familiar, while in raids, the total damage done is far greater. Firecell Roar in the other hand, is able to lower the raid boss's ATK so your familiars take less damage. For defensive skills, Grin and Bear It is less useful than Syphon due to the events hingeing less on a chance survival. Curse Foil would still be a better choice since your warlord will likely not die. For opening skills, Boon of Mind and Blade will provide the maximum benefit for the team, but Boon of Mind and Shield is also a workable option if one runs mostly WIS-based familiars.
PvP
Purple Knife is a very aggressive Warlord with high ATK and WIS and two archetypes can be seen here (ATK or WIS). Her very high WIS allows her to cast effective buffs, and such skills should only depend on the offensive skill of the Warlord and on the player's team. An AGI buff, however, may help her to attack before the enemy.
Damaging WIS skills like Torrent of Flame are perfect for Purple Knife, allowing her to deal heavy damage to entire teams of enemies. Her high ATK allows her to OHKO foes with ATK-based skills like Head Bash.
Her high ATK allows Purple Knife to deal massive damage during counter-attacks, but her very low DEF is a big con. While Payback is the best solution, skills like Shield & Dagger should be avoided. Curse Foil here is a very good alternative.
PvE
A PvE set for Purple Knife would be similar to a PvP one if the player chooses the ATK way. However, if the player decides to use WIS skills, AoE skills should be avoided and replaced by multi-hitting ones (like Flash of Rage).
PvP
Red Samurai is built for attack, as he naturally has a very high ATK, and decent AGI/DEF. Skills like Head Bash or Ice Fist will allow him to deal high damage, if not OHKO some Familiars. Bone Crush obviously being the better option over Ice Fist.
However, his bad WIS will not make buffs very effective. Bulwark, on the contrary, will allow Red Samurai to resist most of attacks and, with good reactive skills like Cloak & Dagger, will allow him to make devastating counter-attacks. Due to his decent base AGI, Grace of Winds can occasionally be a good alternative.
PvE
Red Samurai's options for bosses are quite the same than the ones he has for PvP. However, instead of using Bulwark, and with the Elite boost, a buff is possible here. Using Strength of Blades to increase his own ATK, or an all-party buff to improve Elite Familiars, are the best options.
Against bosses, Curse Foil is also the best reactive skill, besides Payback, as Shield & Dagger is ineffective against them.
PvP
White Knight is the most versatile Warlord, as all of his stats are decent. Almost all options can be considered for him, but as his ATK is higher than his WIS and AGI, offensive skills should be based on ATK. Bone Crush and Head Bash are the best options, with Ice fist being a viable cheaper alternative to Bone Crush.
His decent DEF allows White Knight to be able to protect other Familiars with reactive skills, while doing great counter-attacks. Cloak & Dagger is preferred over Shield & Dagger as no matter the warlord, Shield & Dagger kills them faster.
His WIS is average so buffs won't be very effective. Like for Black Brute or Red Samurai, Bulwark is an interesting option, especially if reactive skills like Cloak & Dagger are used.
PvE
White Knight's PvE set shares similarities with his PvP set, as it is based on his good ATK. However, thanks to the Elite bonus, he is able to cast effective buffs to himself and/or to the brigade. Such a buff should depend on Elite Familiars, or should be based on ATK for White Knight's skills (Strength of Blades).
Like for other Warlords, Syphon is the best option if Payback or Curse Foil are not available.
Ad blocker interference detected!
Wikia is a free-to-use site that makes money from advertising. We have a modified experience for viewers using ad blockers

Wikia is not accessible if you've made further modifications. Remove the custom ad blocker rule(s) and the page will load as expected.